Patterns & Prints Lux Winter Style – Gypsy Song
Fan us on Facebook.com/StyleSistaMary!!
Click these links to shop these items right now!
1. Anna Sui Gray Black and Amethyst Art Deco Printed Dress Sale $278
2. Antik Batik Multicolor Carpet Stole $66
3. Antik Batik Rogers Dress in Gray $170
4. Anna Sui Pink Rose Border Burnout Kimono in Black Multi Sale $403
5. Free People Black Stripe Lace Peplum Top $111
6. Betsey Johnson Goldtone Multicolor Crystal Teardrop Earrings $42
7. Antik Batik Red Wanjo Hobo Bag with Fringes Sale $105
8. Antik Batik Black Slim Fit Trousers $102
9. Antik Batik Multicolor Aeden Wallet Large Clutch $83
10. ModCloth Where Theres A Willamette Boot in Black $42
11. Antik Batik Green Blouse $59
12. Clutch Jewels Astrid Earrings
Patterns, prints, fringe, embellishments, velvet burnouts? Yes please! Bring on the lux that winter dressing inspires. That's one of the reasons I always love to look at what Anna Sui is doing. She's always got a slightly vintage inspired collection because her details have an old world touch to them. I could easily live in her world. I also love to think about Antik Batik and what their world must be like. Their embellishments give every piece they do that unique personality. I adore their collection right now.
Free People always turns my head. I may not always get what they are doing or be their client that season but in general when I see their garments I'm always attracted to them without even seeing their label. I have a few Free People items in my closet that I LOVE to this day and I've had them awhile now. See more photos and story below.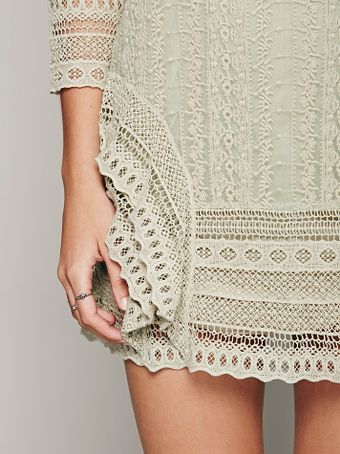 Free People
Victor Victorian Dress
Source: Lyst.com

This time of year is so much fun when it comes to getting dressed because its all about layering. I love lux layers and getting creative about what could go under another garment. What about a long sleeve sweater underneath a short sleeve T-shirt? I don't know but its worth a try. What about belting it? Sounds promising. Best thing to do is try it.
When I shoot my Street Style Photos I have way more luck with interesting outfits in the Fall Winter than I do in the Summer. In the summer there's just not enough going on with outfits with all the skin showing, which is awesome because its sunny, but not so great for photos because there just isn't enough in peoples outfits to draw the eye usually. So this winter add on another layer. Button up a shirt to the top button and put a sweater over top of it and maybe a necklace over top of that. Worth a shot. In fact I did that with a Chambray Shirt and a fluffy black and white sweater and its become one of my fave looks this season with my brown vintage cord fedora to top it off with. Best part is I wear this look on really cold days and it keeps me super warm and cozy.
This gorgeous Free People Dress below was so lovely it deserved it's own photos. I LOVE IT! I also love the tall ornate boots they paired with it. So fresh. Spring will be here before you know it. I know you're already thinking soft pastels a little bit. It's so hard to ignore the Spring feelings but before we are out of Winter's cold grip buy into the embellishments and layering cause they are great for transitioning seasons. Layer, unlayer, layer, unlayer. I'm already doing that with my scarf these days. Can't wait to start wearing my lighter fashion jackets again.. soon. Yay! Enjoy the essence of this Gypsy Song Collection I put together to inspire some lux in your wardrobe right now.
Much love and rock steady.
Mary.